Therapy Services
Physical Therapy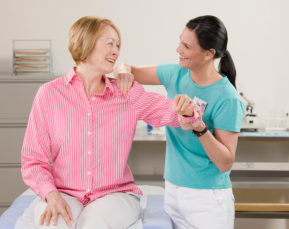 Restore specific loss of function, range of motion and strength through therapeutic exercise. Utilization of adaptive equipment and aids in rehabilitation.
Balance, Coordination and Motor Control
Range of Motion, Strength and Mobility Enhancement
Manual and Massage Therapeutic Techniques
Pain Management
Home Safety Evaluations with focus on Fall Prevention and Safety Awareness
Occupational Therapy
Assist patient with developing activities and facilitate maximum self care and return to previous level of function.
Safe Use of Adaptive Equipment
Relearning Skills for a new Living or Work Environment
Home Modification Assessment with focus on Fall Prevention, Home Hazards Reduction and Home Safety and Security
Speech Therapy
Assist patient with speech/language or swallowing disorder, which may have been impaired following illness or accident.
Assist patient with communication techniques and/or devices as well as problems with cognition and swallowing.